Das Kinojahr 2012 hat im dritten Quartal schon mal ordentlich angezogen und es bleibt zu hoffen, dass das alles entscheidende vierte Quartal das Jahr von einem durchschnittlichen Niveau auf ein gutes Niveau hievt.
Once upon a time in Anatolia
bleibt der unangefochtene Spitzenreiter, der in Deutschland bzw. Österreich neugestarteten Filme des Jahres. Bei Nuri Bilge Ceylan spielen sich die entscheidenden Regungen und Gefühle jenseits des Inhalts und oft auch jenseits des Bildes ab. Seine klar von Michelangelo Antonioni und Andrei Tarkowski inspirierten Bilder samt oft autonomer Kameraführung, sein Gefühl für Gesichter, die Ruhe und Kraft seiner Bilder machen dieses Drama zu einem herausragenden Werk der Filmkunst. Dabei findet er selbst unter den trockensten Steppen Anatoliens noch eine Prise Humor über den die Charaktere selbst nicht wissen, ob er zum Lachen ist oder zum Weinen. Das Schauspiel wirkt trotz der übermächtigen, trostlosen Umgebung so tief, dass man fast von einem Ensemble-Drama sprechen muss. Ceylan beweist auch das Metaphorik durchaus ins Kino gehören kann. In einer langen Sequenz verfolgt er einen Apfel, der in einen Bach kullert und sich dort vom Wasser mitreißen lässt bis er an einer Engstelle, an der schon viele verfaulte Äpfel warten, hängenbleibt.
Die Premiere von Ceylans Kriminal-Meditation war in Cannes 2011. Der Sieger der goldenen Palme von Cannes 2012, Michael Hanekes Liebe läuft nun auch seit einiger Zeit in den deutschen Kinos.
Dabei behandelt er gewissermaßen ein Tabuthema, nämlich alte Menschen und das Sterben. Allerdings ist dieses Thema in den letzten Jahren doch vermehrt in Kinofilmen zum Gegenstand geworden, (erinnert sei beispielsweise an Wolke 9 von Andreas Dresen oder Away from her von Sarah Polley ) sodass man dem österreichischen Regisseur wohl kaum ein übergroßes Wagnis bei der Themenwahl bescheinigen könnte. Insbesondere, wenn man an das Zielpublikum der kleinen Kinos denkt. Da ist es eigentlich nur konsequent sich mit älteren Menschen zu beschäftigen. Die Unerbittlichkeit und Präzision eines Michael Haneke wurde allerdings nie zuvor erreicht. Man kann zeigen, wie eine Windel gewechselt wird oder man kann-wie Michael Haneke- beobachten wie eine Windel gewechselt wird und dabei die Dauer des Vorgangs zum Gegenstand seines Inhalts machen, denn erst durch die Dauer wird die Last und die Unerträglichkeit und gleichzeitig die Zärtlichkeit dieses Vorgangs bewusst. Das besondere an Liebe ist, dass die oft als "kühl" verschriene Länge und Distanz der Einstellungen von Michael Haneke in diesem Fall sowohl eine Distanz des Zusehers zulässt und eine Reflektion, aber gleichzeitig auch eine emotionale Gewalt, die einen körperlich involviert. Diese Menschlichkeit wird nicht durch Sentimentalitäten erreicht, sondern durch Ambivalenz und Authentizität innerhalb der Charaktere. Es sind die Szenen, die scheinbar gar nichts bedeuten, wie das in der Nachbetrachtung herzzerreißende Bild von Emmanuelle Riva und Jean-Louis Trintignant in der Straßenbahn nach dem Besuch eines Klavierkonzertes. Als kalkuliertes Wagnis sind die poetischen Szenen mit einer Taube und einige Traumsequenzen zu bezeichnen, die den Realismus unterbrechen und dadurch umso wirksamer erscheinen lassen. Jacques Audiard hatte dieses Stilmittel in Un prophete perfektioniert, wogegen Haneke damit schlicht und ergreifend noch tiefer in seine Charaktere eindringt. Und das ohne ihnen jemals zu nahe zu kommen.
Denn wo ist der Punkt, an dem Menschenwürde aufhört existent zu sein? Eine Frage mit der sich Liebe genauso beschäftigt, wie sich das Kino selbst damit beschäftigen muss. Menschenwürde, die auch in Shame von Steve McQueen ein Thema ist. In diesem Fall ist das "Tabuthema" Sexsucht. (ein Wort, so tabu, dass es das Rechtschreibprogramm als Fehler markiert.) Ein Film, der durch die ungeheure Stilsicherheit seiner Bilder überzeugt. Hier ist alles aus einem Guss, die Kamerabewegungen, die Farben des Szenenbilds, die Musik. Der einzige Fremdkörper ist derjenige, der eigentlich wie gemahlen zu sein scheint für diese Welt, für dieses New York: Brandon, gespielt von Michael Fassbender. Er lässt sich treiben von einer Affäre in die Nächste und dabei geht es nur um einen Kick, obwohl er schon lange nichts mehr spürt. Wenn die entscheidenden Momente bei Once upon a time in Anatolia zwischen den Bildern liegen, so liegen sie in Shame direkt in den Gesichtszügen von Michael Fassbender. Dieses Abfallen der Lebenslust, diese Leere brennt sich in die Köpfe der Zuseher, sodass es einen Monate nachdem man den Film sehen konnte, noch kalt den Rücken runter läuft.
Neben Haneke machte im Jahrgang 2012 in Cannes vor allem Leos Carax auf sich aufmerksam. Sein Film Holy Motors ist ein wilder, absurder, gesellschaftskritischer Trip durch unsere (?) Gesellschaft. Man fühlt sich ein wenig wie der Zeuge des Wahnsinns. Doch dann holt einen der Film ein und man weiß nicht mehr wie einem geschieht. Sozialdrama und Fantasy-Epos in einem Film, tieftraurig und schreiend komisch, aber immer bizarr. Vor allem scheint dieser Trip ein Trip in die Freude am Kino zu sein. Carax bewegt sich wie ein Tier durch das Kino, er schleicht um die Sitze und wartet darauf uns genau das zu geben, was wir nicht erwarten. Ein Schauspieler lässt sich mit einer Limousine durch die Stadt fahren und spielt viele unterschiedliche Rollen innerhalb des Tages. Wie viele Personen muss man sein, um zu funktionieren? Und funktioniert man dann noch? Holy Motors ist ein Film, der unter seiner absurden Oberfläche philosophische Tiefen versteckt und der die sinnlosen Grenzen des narrativen Kinos offenlegt, um zu zeigen, was eigentlich auch möglich ist. Damit ist er sowohl eine Hommage an ein altes Kino, als auch ein Fingerzeig für ein neues Kino.
Deutlich bescheidener kommt da schon Martha Marcy May Marlene von Sean Durkin daher. Aber in einem gewissen Understatement und der Ruhe des Films liegt seine Stärke. Martha, gespielt von einer grandiosen Elizabeth Olsen gerät in den Bann einer merkwürdigen Sekte, um Anführer Patrick. (noch grandioser: John Hawkes) Kaum merklich verschwimmen die Grenzen zwischen Recht und Unrecht, zwischen Glück und Unglück und schließlich auch immer mehr zwischen Realität und Imagination. Dieses Gefühl greift über die Leinwand hinaus und gibt dem Zuseher im Kino ein Gefühl des Unwohlseins, welches man noch lange nach dem Ende des Films mit sich trägt.
Das gegenteilige Gefühl, nämlich das Gefühl des unendlichen Hypes begleitet normalerweise die Minuten nach dem Ende eines Christopher Nolan Films. Viel anders gestaltet sich das auch nicht mit dem Ende der Batman-Trilogie The Dark Knight Rises. Kritisch könnte man bemerken, dass Nolan trotz seiner unbestrittenen Fähigkeiten als Filmemacher auch mit dem dritten Teil nicht über gewöhnliche Blockbuster-Klischees hinwegspringen kann. So scheint er das Ende des Films um einige Minuten zu verpassen, den Actionanteil um einige Minuten zu überziehen und einige viele Male zu wenig Luft zu holen. Dennoch ist Christopher Nolan DER Blockbuster-Regisseur unserer Zeit, wenn man so möchte der Steven Spielberg seiner Generation. Im Gegensatz zu praktisch jedem anderen Superheldenfilm schafft Nolan eine kongruente Welt und verbindet einen akzeptablen Teil an Anspruch mit gut gemachter Unterhaltung. Besonders sein spürbares Augenmerk auf das Schaffen einer abgeschlossenen Trilogie muss ihm hoch angerechnet werden, insbesondere da wohl ca. ein Drittel der Zuseher Batman Begins nicht gesehen haben dürfte. Wer aber alle drei Teile gesehen hat und sich unkritisch auf die Welt einlassen kann, der hat ein Kinospektakel erlebt, dass sich nicht hinter den größten Mehrteilern der Geschichte zu verstecken braucht.
Technische Brillanz gibt es auch in Hugo von Martin Scorsese zu sehen. Jenseits der bestechenden 3D-Bilder, ist der Film (und deshalb funktioniert er auch so gut; völlig unabhängig von der Technik) ein Kinderfilm, der die Herzen von Erwachsenen höher schlagen lässt: "Der Film, den jeder gerne als Kind gesehen hätte." Diese Feststellung meint wohl so viel wie: "Der Film, der jeden wieder zum Kind werden lässt." Die Verbindung von Modernität und Klassik sowohl zum Thema des Films, als auch zum Thema seiner Form, als auch zum Thema der Filme im Film zu machen, ist ein großartiger Schritt eines Regisseurs, der vielleicht nicht mehr die ganz großen Wagnisse eingeht, aber dennoch weit davon entfernt ist einzurosten.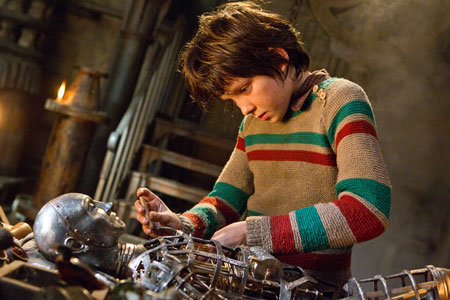 Zurück zu den Regungen und Gefühlen von Once upon a time in Anatolia. Diese spielen sich auch deshalb oft jenseits des Bildes ab, weil die Charaktere versuchen sie zu verstecken. Dieses Thema taucht in bemerkenswert vielen Filmen des Jahres 2012 auf: Die verdrängten und versteckten Gefühle. Brandon lässt sie in Shame höchst selten aus sich heraus, trotz seiner erdrückenden Einsamkeit. Der fürsorgliche Ehemann in Liebe tut einfach seine Pflicht. Damit schützt er sich vor der eigenen Verzweiflung, ob der Resignation seiner Frau. In Was bleibt von Hans-Christian Schmid zeigt die Figur des Lars Eidinger seine Gefühle nicht vor anderen, selbst in einem Blockbuster wie

The Dark Knight Rises muss die Hauptfigur Bruce Wayne seine wahren Emotionen vor seinem Butler Alfred verstecken. Aber was, wenn es gar keine Gefühle zu geben scheint, wie in Drive von Nicolas Winding Refn? Ein emotional abgestorbener Machotraum, der sezierend und gewalttätig seine Liebe zu seiner Nachbarin ausdrückt. Eine Mischung aus purem Trash und Kunstfilm, die zum Kultfilm avanciert.
Kult ist auch Woody Allen. Mit seinem To Rome with love erreicht er allerdings nu rein laues Niveau. Die Dokumentation Woody-A Documentary von Robert B. Weide macht das auch nicht viel besser. Ganz nett, ganz unterhaltsam, aber zum Kern des Menschen oder Regisseurs Woody Allen dringt man darin nicht vor. Genauso wenig tut man das bei Polanski- A Film Memoir, ein teilweise wahnsinnig gestellt wirkendes Interview mit dem polnischen Regisseur, das sich mit dessen außergewöhnlichen Leben und Schaffen beschäftigt. Trotzdem ist es eine gute Tendenz, dass solche Dokumentationen in die Kinos kommen. (wenn auch aus dem Internet gestreamed, wie bei der Vorführung in Augsburg.)
Hier mal die völlig subjektive Top15 2012 so far:
1. Once Upon a Time in Anatolia (Nuri Bilge Ceylan)
2. Liebe (Michael Haneke)
4. Holy Motors (Leos Carax)
5. Martha Marcy May Marlene (Sean Durkin)
6. The Dark Knight Rises (Christopher Nolan)
7. Hugo Cabret (Martin Scorsese)
8. Drive (Nicolas Winding Refn)
9. Monsieur Lazhar (Philippe Falardeau)
10. Stillleben (Sebastian Meise)
11. Young Adult (Jason Reitman)
12. Moonrise Kingdom

(Wes Anderson)
13. Was bleibt (Hans-Christian Schmid)
14. On the road (Walter Salles)
15. Barbara (Christian Petzold)
Die größte Enttäuschung des Jahres bleibt für mich bislang der hochgelobte Oscargewinner The Artist.
In den nächsten Wochen gibt es aber einiges, auf das man sich freuen kann:
Die Wand
Gnade
Miss Bala
Ha-shoter
Skyfall
Argo
Pieta
Cloud Atlas
Killing Them Softly
Dans la maison